Members of Pivot Ministry's
Board of Directors
In alphabetical order by first name
Harold Holmes
Member of Inaugural Board
A native of New York, Harold is Wake Forest University's Associate Vice President and Dean of Student Services Emeritus. His career accomplishments at WFU include roles as Chief of Staff for the Division of Student Life and Director of Career Services. Harold also held a number of management positions in the banking industry, both in New York City and Winston-Salem, including Assistant Vice President and Regional Human Resource Manager at Wachovia Bank (now Wells Fargo Bank). He earned a BS in Business Management from Hampton University and an MBA in Management from Fordham University, with additional studies at Carnegie Mellon and Harvard. Harold's community activities include service as President of Leadership Winston-Salem, Chair of the Executive Committee of the Triad Leadership Network, Program Chair and Member of the Board of Directors of Leadership North Carolina, Chair of the Downtown Health Plaza Advisory Committee, Board Member of the NW NC Chapter of the American Red Cross and Senior Services, a member of the City/County Utilities Commission, and campus Campaign Chair and Division Co-Chair for the United Way annual giving program. In the course of his work he has traveled to Australia, China, France, Germany, Mexico, South Africa, and the United Arab Emirates. Harold has two daughters and enjoys sports, photography, and reading as his leisure activities.
Jill Lackey
Chair, Member of Inaugural Board
Jill has over 30 years of comprehensive strategy development and operational experience in all aspects of Human Capital Resources including coaching, talent management, HR and Business Strategy, and Leadership and Organizational Development. Her professional career includes senior level HR roles with several companies including The Edmunds Group and GMAC Insurance. As an entrepreneur, Jill launched and managed her own leadership and organizational development consulting firm and a Consulting Division for a $1.4B Financial Institution. Jill earned her Bachelor's Degree in Psychology and Business from East Carolina University and is a Senior Professional in Human Resources (SPHR). She is a graduate of Corporate CoachU, where she now serves as a faculty member. She is a Master Certified Coach through the International Coach Federation. Currently Jill serves as the Senior Vice President of Human Resources for Dewey's Bakery and President of Talent Development Solutions. She grew up at Ardmore Baptist Church and continues to be an active member of the congregation. She most enjoys spending time at the beach with her children and their families.
Kenneth Pettigrew
Vice Chair, Member of Inaugural Board
Preacher, liturgist, and community organizer, Kenneth is a native of Winston-Salem and an emerging voice in progressive Christianity. He has served as pastor of Shouse Temple CME Church in Winston-Salem and currently oversees operations and worship services at St. John CME Church under the leadership of Dr. Regina L. Reese-Young. Kenneth is also the Executive Director at the Winston Lake YMCA, having previously served with the Winston-Salem Urban League, the United Way of Forsyth County with Faith-Based Community Engagement and the Place Matters Initiative. His work is dedicated to building relationships with faith communities, bridging the gap between sacred and secular for intentional partnerships for the building of strong communities. He holds both the Bachelor of Music in Vocal Performance from the University of North Carolina School of the Arts and the Master of Divinity from the Wake Forest University School of Divinity. At the 2016 Connectional Youth and Young Adult Conference in Memphis, Tennessee, Minister Pettigrew was elected as Chaplain of the Connectional Young Adult Ministry of the Christian Methodist Episcopal Church. He is the founder and principal consultant of Sanctuary Consulting, LLC—a firm dedicated to equipping faith communities and nonprofits with the tools for transformative and impactful community engagement.
Lori Timm
Secretary
As Financial Education Manager at Allegacy Federal Credit Union, Lori Timm develops and drives training and coaching initiatives that promote financial wellbeing to employees, members, and the broader community. Her extensive experience in the executive training and development field makes Lori well suited to this role. Throughout her career, she has lived and worked in Finland, Switzerland, Luxembourg, and Venezuela, where she led a training organization that provided language and cultural services to multinational corporations.
Lori earned her B.A. degree in International Studies from Miami University (Ohio) and an M.A. degree in Intercultural Management with a concentration in Intercultural Training and Human Resource Management from the School for International Training. Additionally, she is a Certified Credit Union Financial Counselor through CUNA. Previous employers include the Center for Creative Leadership, HanesBrands, and Inlingua International. At Allegacy, Lori has worked in the areas of Hispanic Marketing, Financial Center Operations, and Consulting. She also works as a freelance writer and is an active volunteer in the community.
Mike Nuckolls
Member of Inaugural Board
Mike is a Licensed Professional Counselor serving clients through his practice, Newcastle Counseling and Development, PLLC. Born and raised in Winston-Salem, Mike is a 1992 graduate of UNC Chapel Hill with a Bachelor of Arts in Economics. After working as controller of a small publishing company in Durham, he returned to school to earn a Master of Divinity degree at Campbell University Divinity School in 2003. Mike returned to the publishing company to create and direct ancillary products and services and write columns and features as business editor. In 2005, Mike felt called to work with at-risk children and earned a Master of Counseling degree from Wake Forest University in 2007. He was licensed as a professional counselor in North Carolina in 2010 and served as school counselor for almost 8 years at Mineral Springs Elementary. He has been active in local, national, and international mission work throughout his career. Prior to opening his counseling practice full-time, Mike served as Church Administrator and Minister of Missional Engagement at Ardmore Baptist Church where he was instrumental in the founding and support of Pivot Ministry. In addition to counseling, Mike is an adjunct instructor in Wake Forest's online counseling program
Pamela C. Spalding
Treasurer
Pamela C. Spalding is the Business Manager for the Z. Smith Reynolds Foundation where she leads a small staff responsible for all aspects of the Foundation's administrative operations – Accounting & Finance, Purchasing & Contracts, Human Resources, Technology, Grant Administration, and Facilities Management. The Z. Smith Reynolds Foundation, established in 1936, is a private, family foundation dedicated to improving the quality of life for all North Carolinians. In its 80-year history, the Foundation has been engaged in forward-thinking philanthropy with over $600 million invested in communities across North Carolina.
Pamela has worked for both nonprofit and for-profit organizations. Pamela's career history at senior levels of management in accounting and finance, operations, and project management has allowed her to develop strong talents in budgeting and financial excellence, operational excellence, problem solving, analysis, and enterprise level thinking. Her for-profit work experience has included positions with Deloitte & Touche, HanesBrands, Inc., and Bank of America.
Pamela holds a Bachelor of Science in Accounting from UNC-Greensboro and an MBA from Wake Forest University. She has worked as a Certified Public Accountant and is also Six Sigma Green Belt certified in process improvement. Pamela is a member of Delta Sigma Theta Sorority, Inc. and enjoys reading, volunteering, and spending time with family and friends. She is a native of North Carolina and resides in Winston-Salem with her husband and two children.
Regina A. Lewis
Regina A. Lewis, SPHR, SHRM-SCP serves as Internal Organizational Effectiveness Consultant for Wake Forest Baptist Health, partnering with leaders across the healthcare system to drive a culture of high performance. This includes overall talent strategy, organizational development, coaching, engagement strategy, leadership development, team alignment and succession planning. Lewis' 20+ years of broad-based, global Human Resources experience have focused in healthcare, financial services, insurance and in the automotive industry. She also has vast experience as a professional Human Resource Business Partner and Organizational Development/Talent Management Consultant. Regina earned her B.S., Business Administration with a concentration in Marketing from NC A&T State University. An member of the local and national Society for Human Resources Management, Regina is also an active community volunteer, serving on the Board of Directors for the Union Cross Elementary School PTA for over seven years, including Membership Chair for over 4 years. She is a past board member at the Gateway YWCA and current co-committee Chair for the Winston-Salem chapter of Jack and Jill of America. Regina also volunteers at her church and with her children's activities that keep her busy. Lewis enjoys spending time with her two boys and her husband of 25 years.
Sallye Liner
Sallye Liner is a career health care executive in the Novant Health Care System based in Winston Salem.  Now retired, her career spanned four decades, beginning in clinical care and ending in executive leadership.  Serving at Forsyth Medical Center, Sallye became the Chief Nursing Officer in 1987, and ten years later, stepped into the role of Chief Operating Officer there.  She was named President and CEO for Forsyth Medical Center and the Winston Salem market in 2008.  From 2011-2015, she held the role of Chief Clinical Officer for the Novant Health System.
Sallye is a true believer and advocate for community engagement and involvement.  She has served on community boards: The Arts Council, Piedmont Triad Partnership, Winston Salem Rotary President, Winston Salem Alliance, American Red Cross Local Chapter, Forsyth Futures, the United Way, the NC Hospital Association Board and a member of the board of directors at Providence Saint Joseph Health located in Seattle, Washington.  As chair of Pivot's Fundraising Committee, Sallye was elected to our board at the Annual Meeting in May 2022.
Sallye loves every moment she can spend with their nine grandchildren and in travel.  Community service she believes is the "Price we pay for the good fortune to live in this country—Making it better right here at home".
Shannon Allen
Born and raised in Oxford, NC, Shannon is a marketing and advertising professional who has a strong passion for helping people, personally and professionally. She currently serves as Marketing and Customer Relations Officer at Piedmont Triad Airport Authority (PTAA) where she supports the needs of passengers and tenants of the local Piedmont Triad International Airport. Most recently, Shannon was a Digital Marketing Manager at Center for Creative Leadership (CCL) where she partnered with various business functions to help generate revenue and support strategic partnerships. Prior to her time at PTAA and CCL, Shannon worked at local marketing agencies in Winston-Salem (Vela Strategic Marketing & Public Relations, and Greensboro (THS Creative). Shannon earned her B.S. Marketing major, accounting minor from Winston-Salem State University. She later completed a grad certificate program at Liberty University in Management & Leadership. Most recently, Shannon earned her M.S. Marketing – Public Relations from Liberty University.
Currently, Shannon gives back to her community through volunteer service with organizations including Family Support Network of Central Carolina (FSNCC), the National Multiple Sclerosis (MS) Society, and Pivot Ministry. She also volunteers with various ministries in her church, Oak Ridge First Baptist. When she's not working or serving, she enjoys traveling, spending time with her closest family and friends, singing and baking.
Thurmond Toland, Sr.
Thurmond Toland, Sr. is a Senior Program Manager on the Wells Fargo at Work team. He provides market support to the Piedmont Atlantic and Western Atlantic regions. With more than 20 years in the financial services industry, Thurmond has a deep passion for sharing his knowledge with both internal colleagues and external clients. He is currently the Membership and Chapter Development Chair of the Triad chapter Black/African American Team Member Network. Thurmond also serves as the branch liaison board member for the Wells Fargo Volunteers Piedmont Triad chapter. Thurmond and his wife Allison relocated to the Triad with their three sons back in 2017. Since his arrival he has volunteered with various local nonprofits like Crosby Scholars, Samaritan Ministries and the International Civil Rights Center and Museum. In his free time, Thurmond likes to travel with his family, write poetry and spend as much time as possible outdoors on his grill.
Tina Flowers
Attorney Tina A. Flowers' legal career has spanned private practice, court-appointed counsel through Forsyth County Juvenile Court, pro-bono services through Legal Aid, and Professor at Salem College. Currently she is the Greensboro Child Support Enforcement Attorney for Guilford County. A graduate of Wake Forest University School of Law, she also has a Master of Science in Accounting from Liberty University, and a Bachelor of Arts in Political Science from the University of North Carolina at Chapel Hill. She brings leadership, academic, and professional experience to every organization with which she connects. She has worked with diverse clients and business segments. Her professional background includes church administration, small business management, corporate financial accounting, nonprofit fund development, and construction-related project accounting.
She is married to Mark A. Flowers, Sr., and they have three children, Mark (II), Tiffany, and Matthew. Attorney Flowers is devoted to promoting change by galvanizing others to collective and individual action through positive communication, effective advocacy, and inspired learning.
Darryl Sawyer
Member of Inaugural Board
Darryl was born and raised in Winston-Salem, where he graduated from R. J. Reynolds High School and then received a Bachelor of Arts degree in Mass Communications from Winston-Salem State University.  A recent graduate of Leadership Winston-Salem, he has two adult children and a granddaughter.  In his spare time, Darryl enjoys traveling, attending music and sporting events, and spending time with family.  He has been employed with the City of Winston-Salem Fire Department for 19 years and currently serves as the Division Fire Chief in the Operations Branch. Darryl is responsible for daily operations, personnel matters, and writing policies and procedures.  He also coordinates the department's hiring and promotional processes.  Darryl has a passion for helping people become self-sufficient.
Heather Witt
Member of Inaugural Board
Heather spent 16 years as a retail banking director, overseeing large retail banking operations in the Triad and state before jumping into the nonprofit space.  She currently works as Director of Development & Community Relations for The Salvation Army.  She has served on several boards, including Triad Adult & Pediatric Medicine, Inc., Crescent & Reynolda Rotary, a founding board member for Purple Heart Homes, Inc – Piedmont Chapter, and served as the Chair of the research and founding council for the Children's Home Society Youth Empowerment Center for Children Aging our of Foster Care.  Heather is married to Garrick and is a proud mother of 3 children (5, 7, 14) and 1 step-child.  She is a data dork, lover of art, water/snow skiing, and as a Coloradan loves the mountains.  She is passionate about social innovation, building partnerships, advocacy for under-served populations, and using compelling imagery and stories to build awareness around social issues.
Holly Brower
Member of Inaugural Board
Holly Brower is on the faculty at Wake Forest University where she teaches undergraduate and MBA courses in Leadership, Organizational Behavior, and Nonprofit Leadership. She has also taught in International programs in Nicaragua, Austria, Germany, and China. She developed and directs the internship program for the Business and Enterprise Management major at Wake Forest. Research interests include trust, leadership, and governance in addition to various pedagogical issues. Before earning her PhD at Purdue University, Holly had 12 years of management experience in the nonprofit sector, including directorships in the American Cancer Society, Neighborhood Housing Services, Allen Memorial Hospital and Youth For Christ. Her training and consulting expertise lies in the areas of leadership, team building, governance, and strategic planning. She is active on the Board of Samaritan Ministries and volunteers with Forsyth Jail and Prison Ministries, Samaritan Inn, and River Oaks Community Church.
Melinda C. Beauchamp
Melinda C. Beauchamp, former CEO of United Way of Davie County, is a native of Winston-Salem and graduate of Reynolds High School, Melinda earned her Bachelor of Social Work from Western Carolina University. Her career to date includes work with primarily for nonprofits, except for a short stint in mental health and nursing home care. Her deep nonprofit experience includes the American Red Cross in Winston-Salem for 20 years in two critical positions: the Director of Blood Services and Associate Executive Director of the chapter. Melinda worked for another local nonprofit, helping with their capital campaign. She consulted with Family Services in marketing and outreach for their Ways to Work program and subsequently with Second Harvest Food Bank in program development. Melinda and her husband have lived in Advance for over 30 years, raising three wonderful children. They have twin sons, one in banking and one in financial management, and a daughter who recently graduated from dental school at Case Western University. Melinda was instrumental as a mentor for Executive Director Carol Polk in the ministry's formation stage, helping to bring the vision of Pivot to fruition.
Sherry Ramsey
Member of Inaugural Board
Sherry is a retired community development specialist, former public health educator and reentry case manager and mentor. She has been a trainer, volunteer coordinator, and community organizer. She has developed and continued many relationships within community groups and organizations, particularly while employed as Weed and Seed Coordinator. The Weed and Seed Initiative was developed during the George Bush Sr. Administration to weed out the bad and seed in the good within underserved communities. Subsequently, she joined one of its partnering organizations, Faith Seeds Reentry Coalition, where she served as Program Coordinator, seeking partnerships with organizations willing to hire ex-offenders, working with ex-offenders on skills to help them become successful with writing resumes, interviewing, telephone skills, as well as finding volunteers to serve as listening circle leaders. Sherry worked as a Public Health Educator with the Forsyth County Health Department, providing services to the community and to the public sector regarding Diabetes, Hypertension and other chronic illnesses. Sherry is a graduate of North Carolina Central University in Durham, where she majored in Public Administration and minored in Criminal Justice. She loves spending time with family and travel, whether by car, air, or sea; and she is always planning their next adventure. Currently she serves on the Board of the Scholarship Committee at Providence Baptist Church, where she and husband Steve are New Members Coordinators.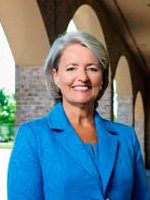 Tracey Martin
Member of Inaugural Board
Tracey has over 35 years of experience as a CPA and is a tax and consulting partner in the Winston-Salem office of Bernard Robinson & Co., LLC.   She leads the Firm's Client Accounting Solutions, which provides outsourced accounting and advisory services to clients.  Tracey also works primarily with professional service groups and high net worth individuals, including physician practices, law firms, marketing & advertising.  She also has experience with nonprofit entities and closely-held businesses. Tracey is an active member in church, professional and civic organizations, and a frequent speaker on various professional topics, including health care reform.  Tracey and her husband Jeff were married in 2013 during one of their many mission trips to Chiapas, Mexico. You will find Tracey in Charlotte at least 8 (hopefully more) Sundays in the fall, tailgating and cheering for the Carolina Panthers.  One of Tracey's favorite quotes is by Baroness Karen Blixen: "The cure for anything is salt water – sweat, tears or the sea."  She considers these words to live by as she enjoys her two favorite things, working out and sitting by the sea at Kure Beach.